Updated on: 01/04/2022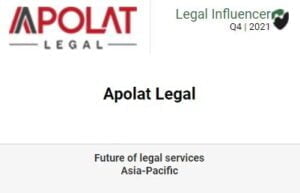 Apolat Legal is a Vietnamese law firm honored as a Future of legal services in the Asia-Pacific Region by Lexology. Lexology is one of the largest and most respected legal information organizations today. This is an affirmation of Apolat Legal's efforts in its continuous development and its position as a reputable law firm in the Vietnamese market.
By expanding global connections and forming a network of international partners, Apolat Legal always aims to provide the best support to clients in Vietnam and in the world.
Please find out more information at https://www.lexology.com/influencers/q4-2021?additionalJurisdictionSearch=5&additionalWorkareaSearch=-1